The behaviour of Petra Laszlo, a camerawoman working for a station which is affiliated with Jobbik, Hungary's far right party, has caught the headlines in all the media including in the New York Times.
It is not very pretty.
Is it just her values on display or were they "Jobbik's values" or "Hungarian values" or "European values"? Or were they the "Christian values" of the Hungarian PM which were being defended? Or "Aryan values"?
After more images appeared online showing Ms. Laszlo kicking migrants, including a child, her employer, N1TV, which works to popularize the virulently anti-immigrant Jobbik party, said in a brief statement that she had "behaved in an unacceptable manner," and had been fired.

Video recorded by Ms. Laszlo for the broadcaster's YouTube channel showed the man she tripped carrying a child in his arms as he ran from a police officer. The footage was edited to conceal the fact that Ms. Laszlo, wearing a surgical mask, had stuck out a leg to send the man sprawling.
This report is from Quartz:
After a Hungarian camerawoman was caught on film tripping a refugee carrying her child who was running away from Hungarian police, the camerawoman's employer, N1TV, decided to terminate her contract.
The same camerawoman can also be seen kicking other refugees, including a young girl.

The incident happened in the town of Roszke in southern Hungary, close to the Serbian border, as refugees broke through a police line at a collection point. The woman has been identified as Petra Laszlo. The station she was on assignment for is affiliated with Jobbik, Hungary's far right party.

 "An N1TV colleague today behaved in an unacceptable way at the Roszke collection point," the TV station's editor-in-chief said in a statement on Facebook, in which he also announced contract was terminated on the same day.

The video went viral, sparking outrage in Hungary and elsewhere. Opposition parties spoke of launching charges against Laszlo for "violence against a member of the community."
Camerawoman for N1TV trips a #refugee carrying a small child as he runs from police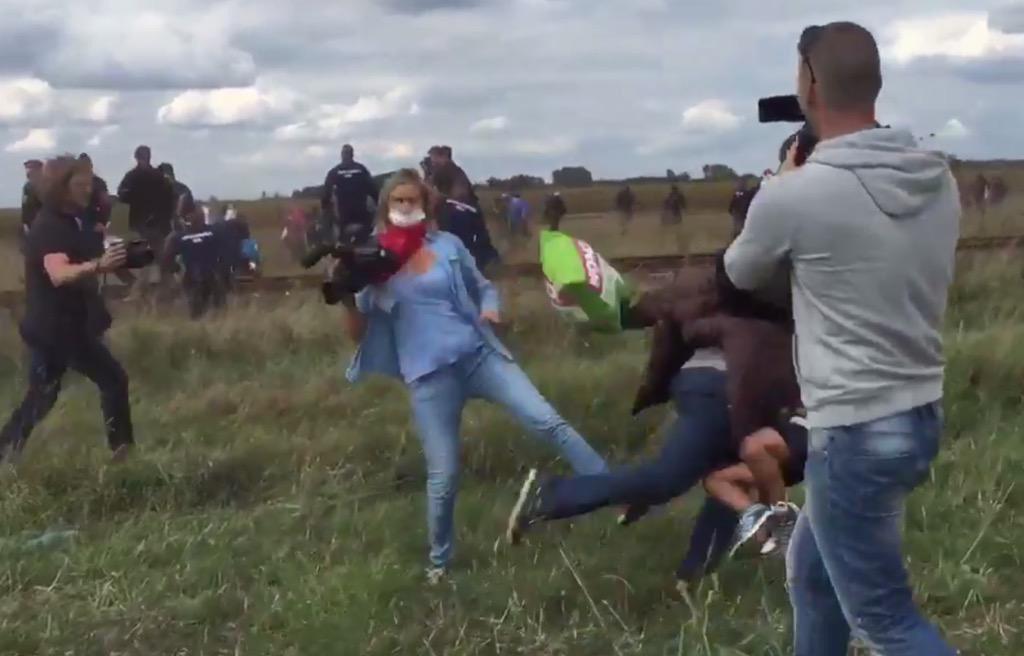 Same N1TV camerawoman also caught tripping a young #refugee girl – @panyiszabolcs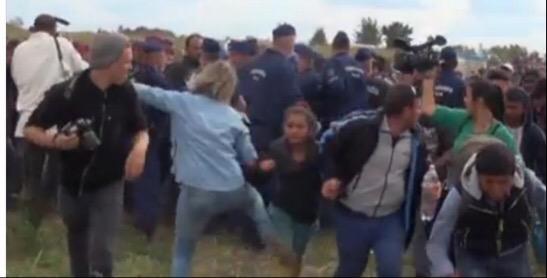 How many more refugees did she kick that day? Perhaps she kept score.
Reuters has the picture of the man and his terrified son in all their misery after they were tripped by Petra Laszlo.
Related:
Religions have no values – people do
Tags: Hungary, Jobbik, Petra Laszlo